Local Delivery
FREE Same Day Delivery!
Place your order by phone at 815-436-5957 by 12 pm, Monday through Friday.
Questions about how can you participate in the awesome program? Here are answers to FAQ or give us a call:
Minimum order, $75.00 within 5 miles of the store and to all Plainfield addresses. Outside of 5 miles, charges will accrue per mile beyond 5 miles. Please contact us for our delivery fees beyond 5 miles. Generally $2.00 per mile outside of 5 miles.
Same-Day Deliveries are only available on Tuesday and Thursday.
Free delivery to Oswego on Tuesday and Thursday (only) if orders are placed by 12 pm.
Place orders any weekday with Wags to Whiskers associates by phone (815-436-5957) by 12 pm*. All same-day delivery orders must be in by 12 pm to be delivered by or before 7 pm the same day. If after 12 pm, the orders will be delivered the following day by 7 pm.
Weekend orders will be delivered by 7 pm Monday.
All customers must be able to pay with a credit card over the phone at the time of your order or check upon delivery if you are going to be home. No CASH will be carried by our drivers for their safety.
Someone over the age of 18 must be available to accept delivery. If you will not be home, designate an easily accessible, safe place for us to drop your order. Customers must take full responsibility for all products once it's delivered by the Wags' staff.
If for any reason we are out of the product you are inquiring about, we will offer a substitute and/or order confirmation with a delivery time/date.
YES! We can set up recurring order deliveries! Don't worry, we'll take care of your product deliveries so you never run out! Leave the work to us!
And yes, feel free to tip your driver.
Every-day Low Pricing and Price Match Guarantee!
Wags to Whiskers has embraced every-day, food prices and price matching*. You'll save more EVERY day with Wags to Whiskers. PLUS we'll match any other advertised, regular price for any pet store in Plainfield guaranteed*!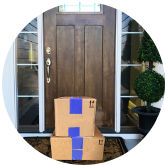 No-Contact Delivery
We now provide no contact delivery! We will certainly hand over any type of order right to your doorstep without ever needing to enter into contact with our shipment employees.

Come visit our pet supply store in Plainfield, IL specializing in quality food, treats, and supplies for cats and dogs.