Local Delivery
FREE Local Delivery!
Place your order by phone at 815-436-5957 or online by 12 pm, Monday through Friday.
DELIVERIES ARE MADE ON TUESDAY & FRIDAY TO PLAINFIELD AND ON TUESDAYS TO OSWEGO.
Minimum order, $75.00. Delivery is available within 5 miles of the store.

Deliveries are available on Tuesday and Friday to Plainfield and Tuesdays to Oswego.

If it is after 12pm, we will deliver on the next scheduled delivery day.

Place orders any weekday with Wags to Whiskers associates by phone (815-436-5957) by 12 pm* or shop with us online.

Orders will be delivered by 7pm on Tuesday and or Friday (location dependent).

If you will not be home, designate an easily accessible, safe place for us to drop your order.

Customers must take full responsibility for all products once it's delivered by the Wags' staff.

If for any reason we are out of the product you are inquiring about, we will offer a substitute via phone or email.

And yes, feel free to tip your driver.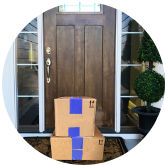 No-Contact Delivery
We now provide no contact delivery! We will certainly hand over any type of order right to your doorstep without ever needing to enter into contact with our shipment employees.

Come visit our pet supply store in Plainfield, IL specializing in quality food, treats, and supplies for cats and dogs.