Call 815-436-5957 for pricing and to book a dog grooming appointment!
We offer the following services. Read below for more details:
Full-Service Grooming, including baths and haircuts + Shed-Less Add-Ons
Brush-Out Appointments
Walk-In Services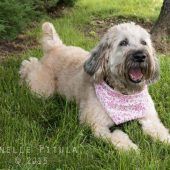 Grooming can be stressful for a pet. Therefore, Wags to Whiskers strives to provide the relaxing experience your pet deserves. The limited number of appointments scheduled during a day allows for individualized attention for your pets. Wags to Whiskers offers an environment where we can focus on your pet's well-being, comfort, safety and health at all times. Please call for a price estimate and to schedule an appointment. Pricing is breed specific and based on your needs.
CALL-AHEAD SERVICES
We do nail trims and nail filing, pad trims, paw trims, face trims, and sanitary trims all on a call-ahead service basis. Please Call 815-436-5957 for more information and to get estimated wait times.
WAGS TO WHISKERS REFERRAL PROGRAM
Save $5.00 for you and give $5.00 to your friend for each referral!
$5.00 Referral Bonus will be applied once your referral completes their grooming appointment. Referral must complete their appointment within 30 days of the referral. No referral discounts will be applied until the referral completes their appointment. Referral must reference the referrers' name at the time of booking in order to receive a discount and for your discount to be reserved. Discounts do not apply to puppy groom discounts.
Call 815-436-5957 for more information. No limit on referrals. Only one referral discount may be applied for each dog being groomed. Referrals apply ONLY to new customers and dogs never groomed by our groomers before the referral.
No time to bring your pet in? Wags to Whiskers can help!
We will arrange for pick up and drop off services through independent pet sitting services. Call for a referral in your area.
Come visit our pet supply store in Plainfield, IL specializing in quality food, treats, and supplies for cats and dogs.